Georgia Boot Women's 6" Renegades Waterproof Work Boot G3351 - Outback Gaucho
Click to Shop All Georgia Boots!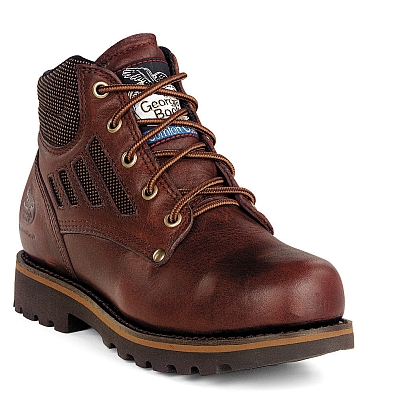 Click To Purchase Women's Georgia Work Boot G3351
OUTBACK GAUCHO
Georgia Waterproof System
Waterproof Nubuck
Removable Comfort Core® Air Flow Orthotic Insert
Fully Lined with High Performance Waterproof Material
Steel Shank
Replaceable Goodyear Welt Construction
Removable Orthotic Insert
Slip & Oil-Resistant "Tri-Lug" Outsole
Georgia Boot
Georgia Boot has been producing quality work boots and work shoes since 1937. As a leading producer of work boots, Georgia Boot continues to revolutionize the work footwear industry by introducing new and innovative technology. For instance, Georgia Boot's Comfort Core® provides ultimate cushioning while keeping your feet cool and dry. Another technology used in many Georgia Boot styles is SPR® leather for toughness and abrasion resistance, which are commonly sought-after features for farm boots. Gore-Tex® is an option used in many Georgia Boot work boots for waterproofing. For added warmth, Georgia Boot uses Thinsulate™ insulation in several work boot styles. Some Georgia Boot styles have Cambrelle® linings to wick away moisture and keep your feet dry. Also a common feature in Georgia Boot work boots is the Vibram® outsole for superior traction and oil resistance. So, if you're looking for a tough, comfortable work boot or farm boot, you'll want to check out our selection of Georgia Boot styles. We offer Georgia Boot work boot styles ranging from lace-up options to slip-on shoes or Wellingtons.