Men's Thorogood HellFire 14" Fire Fighting Steel Toe WP Boot (U.S.A. Made) 804-6373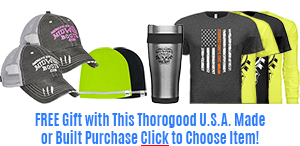 ---
Call for Best Price*: 1-888-851-6622
*Excludes: gift cards, gloves, inserts, socks, Caterpillar, Chippewa,
Justin Work, Thorogood, Wolverine and Wood N' Stream
---
ANSI/ASTM I75 & C75 Approved
ASTM F 2413-05 M/I/75/C/75 Steel Toe
Thorogood HellFire Leather Firefighter Steel Toe 14" Boots 804-6373
Electrical Hazard Rated
Upper: Waterproof, Flame, and Cut-Resistant Leather with Scuff-Resisting Vibram Rubber Toe and Heel Bumper
Construction: Goodyear Storm Welt
Lining: Comfort Weave / Sympatex Watrproof Barrier, Blood Borne Pathogen Compliant
Insole: Polyurethane Removable Footbed on Flexible Double Rubber
Midsole: Rubber
Shank: Steel Triple Ladder Shank
Outsole: Exclusive Vibram Fire Sole with Chiseled Edge Lugs, Non-Marking and Oil, Heat, and Slip-Resisting Even On Icy Surfaces
Color: Black Boulder
Special Features:
Flexible L-Protection Puncture Resisting Insole Material.
Built In Shin Guard, Black Combat Superknit and 4 oz. Thermal Barrier
Tested for and Meets CAN/CSA-Z195 Electric Shock Resistance
Made In The U.S.A.
Customers also bought